How to Read Your Serial Number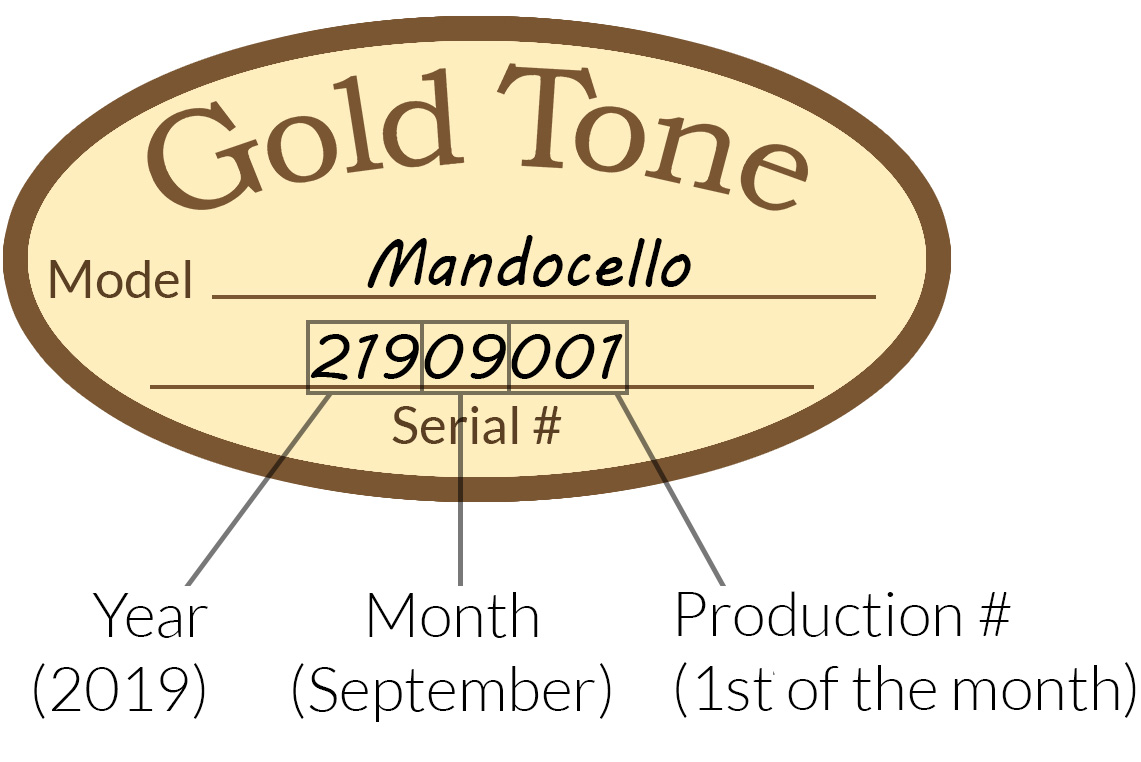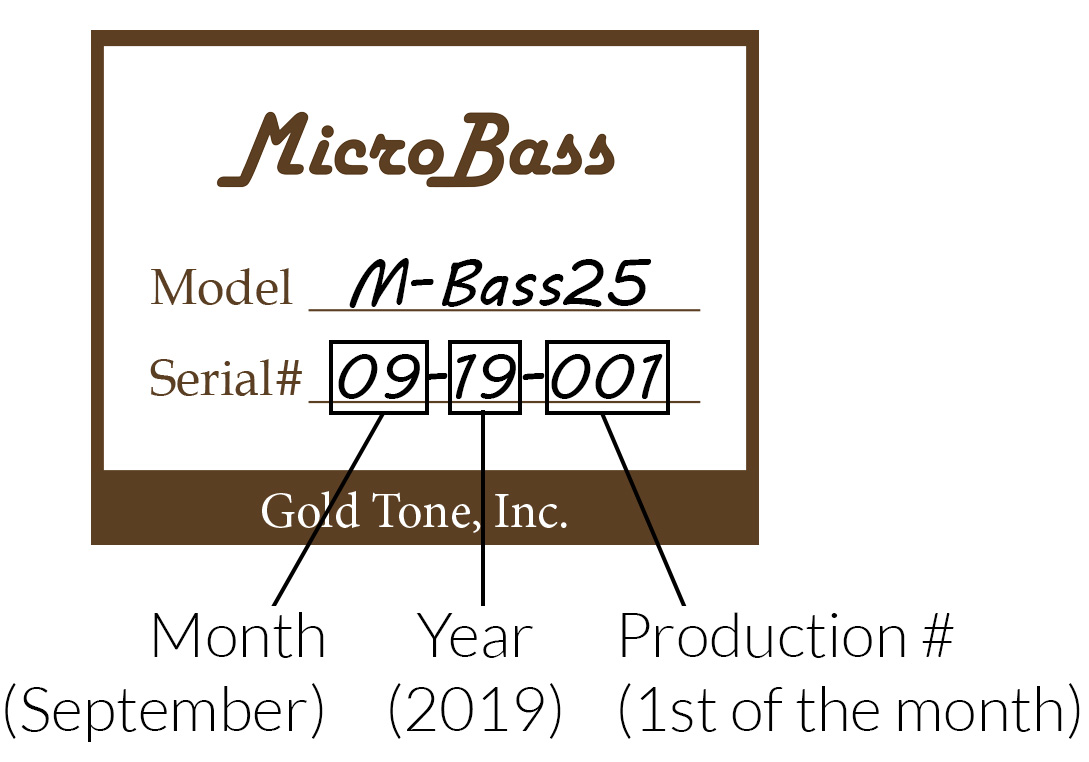 GOLD TONE LIMITED WARRANTY
To help protect your investment, Gold Tone provides this limited warranty. Please review it and keep it handy. And if your instrument ever develops a problem you believe is covered under warranty, feel free to call our service department. You may register your warranty on line. Registering the warranty is not a condition, but it will assist us in repair if the need should arise.
WARRANTY TIME PERIODS
Gold Tone Banjos: Lifetime limited to the original owner. 5 years to the second owner.
AC-Series Instruments: 5 years, transferable.
CC Model Banjos: 7 years to original owner. 1 year to second owner.
All Wood Body Instruments: 5 years.
Weissenborn: 1 year.
TERMS & CONDITIONS
Gold Tone warrants the instrument purchased from an authorized dealer shall be free from defects in materials and workmanship under normal use. This Limited Warranty does not apply; (a) to wear and tear of the instrument or its parts; (b) to asserted defects caused by modification, misuse or abuse or improper maintenance of the instrument; (c) to asserted defects involving subjective personal likes or judgments; (d) to asserted defects caused by accident of exposure to extremes of temperature or humidity which cause harm to the instruments (e) to defects asserted by any purchaser who did not purchase the instrument from an authorized Gold Tone dealer in the United States of America or Canada; or (f) to banjos owned by non-U.S. Residents. Gold Tone Instruments purchased outside of the United States of America or Canada are not warranted by Gold Tone. Warranties for these instruments, if any, are provided by the authorized dealer importing Gold Tone Instruments.
LIMITATION ON OBLIGATION
The obligation of Gold Tone hereunder are limited to repair or replacement of parts of the instrument found to be defective under this Limited Warranty. In no event shall Gold Tone be liable for any indirect, incidental or consequential damages, including but not limited to time, wages or lost profits, of any nature or kind or for damages to or loss of property.
CLAIM PROCEDURES
To process a claim, please call and request a RA#. All packages delivered without an RA# will be refused. Once an RA# is secured, send the instrument or defective part to Gold Tone at the address shown on the face of this Limited Warranty, together with (a) evidence confirming the original purchase by purchaser (such as a copy of the sales invoice or receipt, a credit card slip, or the like); (b) a brief description of the nature of the asserted defect; and (c) he name, address, and phone number of the purchaser to whom the instrument is to be returned. Gold Tone shall review the description of the asserted defect, examine the instrument, and make service, repairs and replacements as appropriate in this Limited Warranty. Upon completion of the service, the instrument shall be returned by Gold Tone to the purchaser, shipping and insurance to be paid by the purchaser. In the event it is determined that the asserted defect is not covered by or excluded from this Limited Warranty, the instrument shall be returned without repairs or replacement, shipping and insurance to be paid by purchaser.
*After 30 days from date of purchase, shipping for all warranty work will be paid for by purchaser.*
To make a claim, click here.
EXTENDED WARRANTY TO SECOND PURCHASER
In the event you are the second purchaser of a banjo, you must inform us through e-mail, provide us a receipt, and accept conditions of this warranty. Failure to contact us will void any claims. Warranty only applies to instruments with original purchase date after 8/1/05.
LEGAL REMEDIES
Depending upon the state in which you reside, you may have additional legal remedies available under the applicable Commercial Code or Consumer Warranty laws.