Length: 45.8mm (1-51/64")
Radius: 12"
Production Height: 9.5mm (3/8")
End Height: 8.64mm (11/32")
Fingerboard: 7.3mm (9/32")
Thickness: 5.9mm (15/64")
Fret Sizes: L, M, H, J (.035", .039", .043", .051")
String Spacing: 36.5mm (1-7/16")
String Gauges: .056", .046", .036", .026", .018", .014"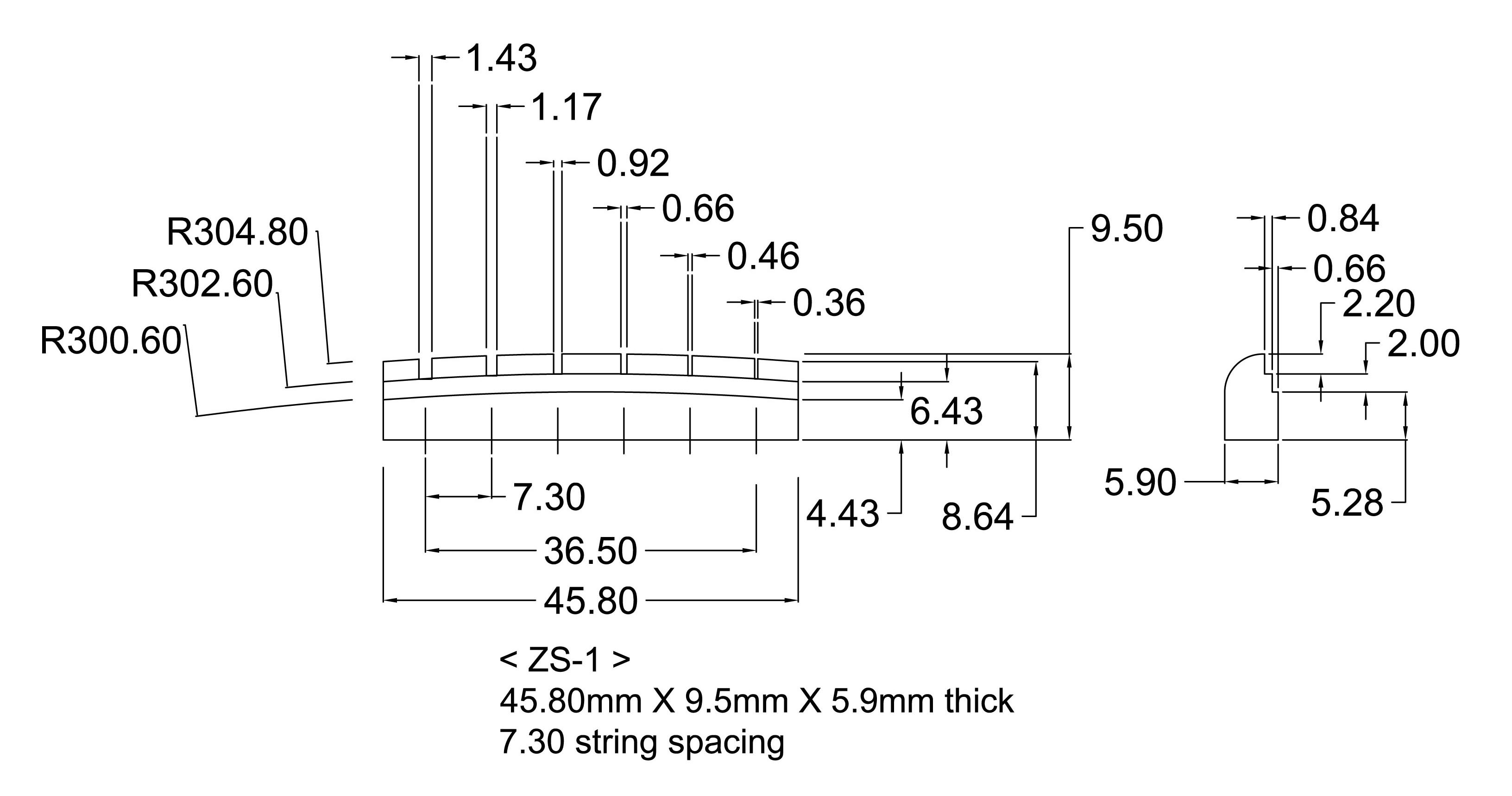 glue it





Jun 23, 2017
I've used this for over a month and I'm more happy now than when I first installed it. The intonation on my acoustic is better than it ever was...you can fine tune the saddle almost dead on for intonation. One suggestion.....be sure to glue in the zero fret with a few drops of glue once you get the guitar right. I was working on my guitar on and off for a month and didn't glue in the zero fret. I was taking the strings on and off. Every time you reinstall the zero fret it will be in a slightly different place. String against fret will cause a slightly different indentation in the zero fret. You want the string to stay in the same spot on the zero fret.
Low Action, High Satisfaction!





Jul 8, 2016
My old nut was too high. And I didn't want to buy 6 nut files. This Zero glide was much, MUCH cheaper, and it was an easy instal. I taped some 400 grit sandpaper to a plank I had laying around. Sand sand sand, check the fit, repeat. I tried each fret it came with and chose the jumbo. I consider this a major upgrade to my home built super strat.
Great product





Dec 31, 2017
My circa 1997 American Standard Strat always had a problem with staying in tune after whammy bar use. I tried pencil graphite and different string sizes with not much luck. I put this nut on and a set of Gotoh locking tuners and now it seems to stay in tune very well.
YES there is a Zero Glide nut for a square neck resonator.





Jul 16, 2021
Do you play a square neck Dobro You know that resonator guitar that is used in bluegrass music Then get a Zero Glide for that instrument. YES it works. I have a Gold Tone OB150 5 string banjo where I was introduced to the ZERO GLIDE nut system. This started a long time love affair with this fine invention. I installed one on a mandolin my Martin D custom that is my number 1 guitar I have one on one of my Telecasters and the rest will soon get them. If it has a nut then it needs a ZERO GLIDE nut. This is very easy to install you can even do the sanding to fit it with a Stew Mac tool that you use to sand nuts and saddles so you will be sure to get a perfectly flat surface for best results. Follow the instructions and you will be able to install the ZERO GLIDE nut even if you are not an experienced Luthier. You can improve tone on a entry level square neck resonator guitar like my Morgan Monroe and any other fretted instrument you install the ZERO GLIDE nut system. You can replace the cone and the spider bridge and the saddles with all the Beard goodies you can get to make your Dobro shine tone wise but DO NOT FORGET the ZERO GLIDE nut system. The one mod that will save you from a world of pain. You will not have to buy a very expensive set of nut files to install and set up a ZERO GLIDE nut system because it is not required unless you get one without slots for a custom job. The nut is bone and the fret wire is metal sometimes stainless steel so you are actually adding to your tone and you take away the usual nut issues with a Zero Glide. Everything I put a ZERO GLIDE nut system on plays much better and sounds much better too. YES there is a ZERO GLIDE nut for your Dobro and just about everything else. Need something custom ZERO GLIDE can help with custom nuts.
Worth The Effort





May 15, 2016
An inexperienced guitar tech worked on the nut of my Guild M75 Aristocrat electric and I ended up with a "sitar" sound on my high E string and a dead G string and bad intonation. A friend recommended Zero Glide and that company recommended this particular nut.
Installation was not particularly difficult for a handy guy, but took two hours and involved sanding nearly 1/8 inch off the bottom of the new nut and 1/16th plus off each side while being careful to keep it even. The video on the company website helps. Once fitted correctly you decide how big of a 'zero fret' you want. There are four of different sizes in the package. I tried them all and found that the smaller ones provide very low action at the nut (which is nice), but require a higher action up the neck to clear the first fret where the strings can rattle. I ended up using the largest fret provided as it allowed me low action where I need it. Once you have it figured out you trim the zero fret to length and glue it
---
Similar products you might like: