Banjo Neck Services: Installation, Modifications, Repairs, and Parts
Gold Tone is the ONLY company in the industry that offers affordable replacement banjo necks in over 40 variations. Our replacement necks are available fretted, fretless, finished, and unfinished. Prices of our necks range from $149.99 to $749.99.
In addition to providing neck replacements we also offer installation, modification, and repair services. On a daily basis, our skilled luthiers perform re-frets, fretboard refinishes, scoop installations, and more. Learn more about contacting us for these services below.
The Complexity of a Banjo Neck Fit
The installation of a new neck demands high precision and specialized tools that one doesn't find in the average picker's toolshed, let alone in most local luthier shop's inventories. This is because the facing surface of the neck's heel (the part of the neck that mates up with the pot) must be cut to precisely fit the topography of your banjo's anatomy. This ensures a tight fit which in turn optimizes the tone, the playing action and the tonal response of your banjo. The machining of the neck heel must be done correctly and to tolerances of thousandths of an inch to perfectly fit the pot to all mating surfaces.
We've invested in machines that enables our luthiers to perform this vital work with the highest accuracy and the best result. This custom-built device can be configured to carve a neck heel profile to fit ANY banjo pot, from ANY maker. We can accommodate rims of any size from six to fourteen inches, too. Whether you send us a Mastertone-style pot with a one-piece flange or a two-piece flange, a Vega Whyte Laydie or Tubaphone, a Weymann tenor you want to convert to five-string or a kit banjo you assembled yourself, we can do the work and return the complete banjo to you in just one to three weeks (depending upon how busy our shop is). Our staff can set up your banjo to accept the bridge height you prefer, from 1/2″, 5/8″, 11/16″, 7/8″ or more. You can order a radiused fretboard or fifth string capo spikes and we offer a variety of tuning machines, too.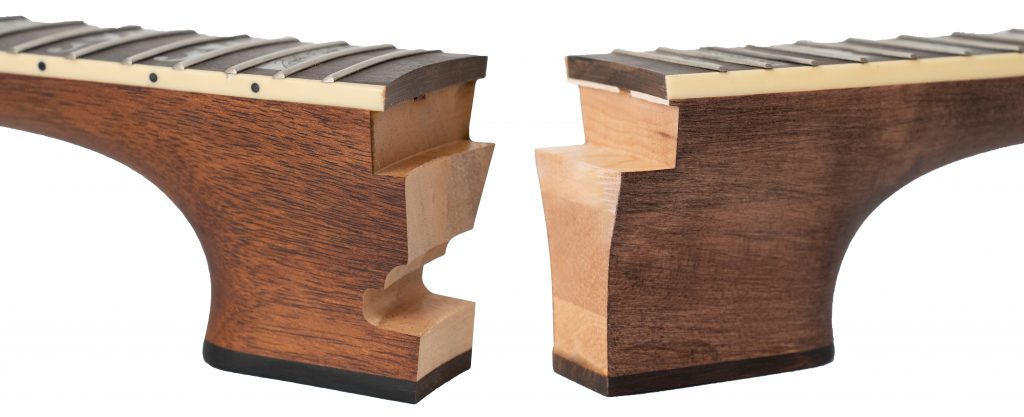 Banjo Neck Services:
Frequently Asked Questions
What is the cost of a neck replacement?
The cost of replacing a banjo neck is dependent on two main factors; the cost of the neck and labor. Our neck prices range from $149.99 to $749.99 and the installation fee is $250 for flat heel cuts and $300 for flange heel cuts. We also require the customer to cover shipping to and from Gold Tone Headquarters in Titusville, Florida.
Can't I just bolt on a replacement neck to my banjo myself? What about if it is a Gold Tone?
No, it is not that simple. Due to the angle cut tolerances (bi-lateral) the fit must be extremely accurate. All banjo necks must be fit to the exact pot you are installing it on. For this reason, we require to have the pot assembly in-hand so we can precisely fit the neck properly.
How long does it take for Gold Tone to perform a neck replacement on my banjo?
We do our best to have your banjo back to you within 1-3 weeks although the timeframe is highly dependent on both the complexity of your install and our shop availability. During our most busy times, you can expect between 3-5 weeks.
I have a vintage banjo with a dowel rod, are you still able to replace the neck?
Yes! We have delt with countless vintage banjos with all kinds of unique characteristics.
Do I need to send the whole banjo or just the body?
You can send us either just the pot assembly or the banjo in its entirety. We prefer you to ship either the pot or banjo in a hard shell case or purchase one from us for it's shipping back to you.
When I am ready to ship my banjo to you, how do I package my banjo?
When shipping your banjo to us for luthier services, we ask that you provide a hard-shell case for us to return the banjo back in. It is also recommend to fill any additional space with packaging padding. We are not responsible for the arrival of a damaged banjo.